The Basics
Where is Cartagena?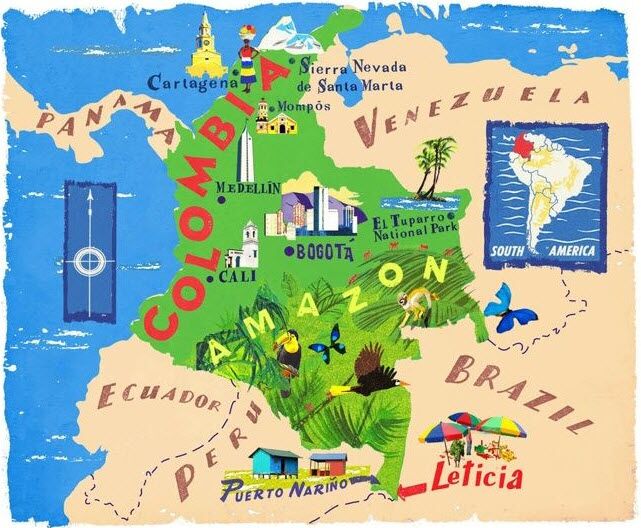 Cartagena is a port city, colonized during the Spanish Colonial era, on the northern coast of Colombia in the Caribbean Coast Region.
Cartagena's Old City/Ciudad Amurallada is its main attraction. Particularly the inner walled town, consisting of the historical districts of El Centro and San Diego. It is a real gem of colonial architecture, packed with churches, monasteries, plazas, palaces and mansions with their famous overhanging balconies and shady patios. The best approach to experiencing the Old City is to wander leisurely, savoring the architectural details, street life and local snacks along the way.
Passports
You need a valid passport. Make sure your passports are valid 6 months post travel, or they will not let you get on the plane. ***This means that your passport expiration date must be dated after July 20, 2019 (or later, depending on your departure date from Cartagena)***
To renew your US Passport - https://www.usa.gov/passport#item-34907
A tourist visa is NOT required

Timezone
Cartagena is in the Eastern Standard Timezone.
Temperature
The average temperature in Cartagena in January is 81°F, with a high of 86°F and low of 75°F. January has a 1% chance of rain. (Let's keep our fingers crossed!)
Do I need to speak Spanish?
It helps, but is not necessary to get around in Cartagena. All hotel concierges and most restaurant and bar staff speak English. However, if you feel like brushing up on your Español, we recommend downloading the free app, DuoLingo, for a fun and easy, gamified way to learn as much or little Spanish you like. Or using the app, iTranslate.

Getting around
We're a big fan of UBER for several reasons. UBER is everywhere, safe, and trackable. For the most part, you can use it even if you don't speak Spanish. You don't have to worry about currency conversions or carrying around Colombian Pesos. We highly recommend downloading the UBER app and linking it to a credit card with no foreign transaction fees prior to travel. Once you are in the Old City, almost everything you want to do is either walking distance or just a carriage ride away but again, UBER is available as well! The taxis frown upon UBER, so don't be surprised if your driver asks you to sit in the front seat :) If you're staying at a hotel and don't use UBER, your hotel will be able to arrange transportation for you to and from a destination.
Currency
The official currency of Cartagena is the Colombian Peso and the symbols are "$," "COP," or "COL$." The meaning of periods and commas when it comes currency are the opposite of that in the US. Example: $15.000 = fifteen-thousand Colombian pesos (about $5.25 USD).
USD and other foreign currency is not accepted.
We recommend pulling out cash at the ATMs in the airport once you land. If you happen to forget, you can find a handful of ATMs around the city. You will always get a better conversion rate at the ATM, so avoid using the currency exchange counters.
Credit Cards
Credit cards are accepted in all major shops, hotels, and restaurants in Cartagena. As with many South American countries, Visa, MasterCard, and American Express are the most commonly accepted credit cards in Colombia.
If you use your card in a restaurant, you might be asked if it's credito (credit) or debito (debit). If you're using a tarjeta de credito (credit card), you might be asked how many installments you want to pay in. Be sure to select 'una, por favor' (one, please) - although you can reportedly even have your dinner bill paid in up to 24 installments. If using a tarjeta de debito (debit card), you'll be asked if its a checking or savings account.
To minimize inconvenience, tell your bank or card issuer that you're going to be travelling abroad to Colombia and the dates you'll be traveling. This will stop them from freezing your card for potential fraud when you're using it in Colombia.
Most credit cards offer no foreign transaction fees, but we recommend double checking with your bank.
Tipping
There is typically a 10% tip (service) added to your bill. If service was extraordinary, feel free to add some extra pesos. If not, you will not be offending anyone. If you sign up for any excursion or tour, we recommend you tip your guides.
Internet & Phone
We recommend that you check with your cell phone provider regarding international data plans and roaming charges. If an international plan is not an option, you should turn off "cellular data" once you land to avoid any surprise charges for international roaming, texting, or data usage. We recommend purchasing a local sim card for minutes and data, and these can be purchased at the airport or convenient stores in Cartagena.
The hotel offers complimentary WiFi.

For Apple users, you can use iMessage and FaceTime while connected to a WiFi network for no charge.
We highly recommend using the app, WhatsApp, for international texting. This is the best way to reach the bride and groom throughout the wedding festivities.
Electrical Converters
If you are traveling from the US, you do NOT need an adapter to charge your electronics. Colombia has the following plug types - types A and B. Colombia operates on a 110V supply voltage and 60Hz.
Zika
Zika is prominent in smaller towns with open septic systems and standing water, not within the upscale section of large cities. If you are pregnant, contact your doctor about travel in Central and South America.

Safety
If you've been watching the hit Netflix drama, Narcos, and you are worried that you may be kidnapped or asked to be a drug mule...don't worry!!! Cartagena is an incredibly safe city and the people are some of the friendliest you'll ever meet. We do not recommend carrying your phone in your back pocket or counting your cash out on the street, as those are easy targets for pickpocketers. Just like traveling to any foreign country, you always want to be aware of your surroundings.
What to do
Stroll the Walled City
The walled city of Cartagena is a mix of culture, architecture, artistry and modernism. The city is known for its vibrant alleys (you'll be able to capture perfect instagram pics!). There are lots of restaurants, shops, street vendors, and street performers.
Horse Drawn Carriage
There's really no better way to see the Walled City of Cartagena than seated in a horse drawn carriage. It's the perfect way to experience this historic city as you would have two or three hundred years ago. Carriages are available almost anywhere throughout the city and can accommodate groups of four.

Day Trip to Rosario Islands
We have coordinated a day trip for our wedding guests to visit Bendita Beach (1 of the 28 islands within the cluster of islands referred to as: Las Islas del Rosario) on Friday, January 18th. If you have some extra time, we highly recommend visiting another island. Among Cartagena's beaches, Las Islas del Rosario receive the most attention, and deservedly so. The beaches are part of a national park and here's where you can find the white sand beaches with crystal clear water. To arrange transportation to another island, please use your hotel concierge or you can book your trip with a street vendor.
San Felipe de Barajas Castle
This is the greatest fortress ever built by the Spaniards in any of their colonies and it still dominates an entire section of Cartagena's cityscape today. It should definitely be your first choice of fortresses to visit. The original fort was commissioned in 1630 and was quite small. Construction began in 1657 on top of the 40m-high San Lázaro hill. In 1762 an extensive enlargement was undertaken, which resulted in the entire hill being covered over with this powerful bastion.